https://steemit.com/story/@marcelli/once-a-rebel-at-school-always-a-rebel-in-life
Dear Parents,
I would like to inform you that your daughter, Marcelli D'Andrea insists in disobey the school norms and rules. Even her classmates don't agree with her rebellious behaviour, indiscipline, her loudness and lack of respect towards teachers, not letting them give good classes.
Today, she didn't attend two classes and run away to the school's backyard. I've tried to talk and advice her many times, but I am playing a fool. Just to remind you, her notebook used to have pages with quotes about school and family but she through it away.
Due to the circumstance, she should stay at home tomorrow, 23/04/99 to think about her project of life.
Please, do something about it.
Best regards,
Militino Roza
Pedagogical Coordinator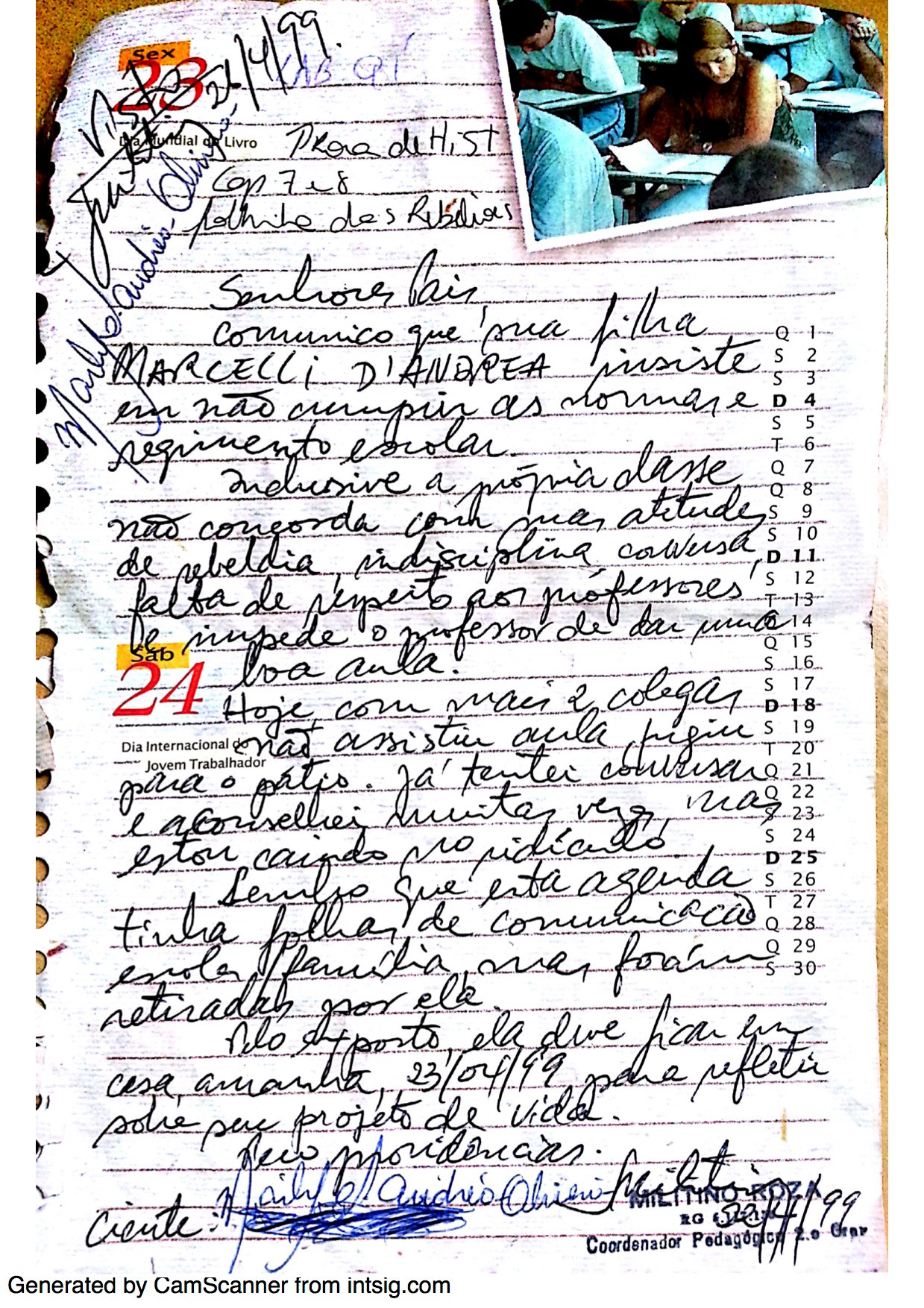 The original letter in Portuguese
Come on! How shall I explain myself?
I found the answer there, at the top of the sheet. On that day I had a History test about Rebellions.
Reading the note again, I amused by: how personality defines our attitudes. Since I am a kid, I had no patience to sit for hours and hours listening to someone. I need action and interaction. I need breaks and I need to move. I didn't disrespect the teachers, I lost interest after so many hours.
To say that 'Even her classmates don't agree with her rebellious attitude'makes me laugh because this still happens. Usually in London, when I say what I think people remains in silence, staring their computer pretending that nothing is happening.
What can I do? I'm not afraid of speaking when I'm right.
I have never liked year notebooks. At school, I carried books and notebooks. When I was at a nun's school, I had to carry the Bible twice a week. Carrying weight is not for me so I thought the old notebook sheets could be recycled.
What can I do? That's me, I don't accumulate.
Now that I am an adult, I notice that those who didn't study the 'Rebellions' are passive about their life journey. It doesn't help complaining without taking action. Attitude is at the beginning of the dictionary. Victory, near the end.
The way is long but it is worth it when you achieve your goals.
So tell me, have you been a rebel? Would you like to runaway to the backyard with me? 🙂
172 total views, 1 views today